Truth The DNA of God
Occasionally, I find myself observing the mass populace. I may be stopped at a red light, or looking out the office windows when I'm at work, or simply watching TV or browsing the web, and I notice that people are in search of something.
It dawned on me that everyone has one thing in common. No, I am not about to say that we are all biological organisms, that would be, far, too advanced for you.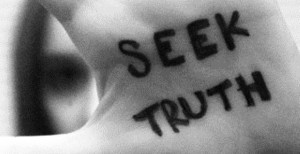 It dawned on me that every one of us, good or bad, professional or rat-racer, slave or master, pimp or whore, mutant or human, are always on the hunt for one thing; the truth.
There are many different types of truths though, like, true love, your true calling, your true friends, your true meaning on earth, your true self, money or your true calling for getting it – in life…you get the idea.
Do You Deserve The Truth?
I guess my question is do you, me, or anyone else out there actually deserve it? I am referring to that wonderful honor and power of knowing the truth. This is my attempt to instill culture. I have my moments.
Truth goes by many names, honesty, "real", "100", genuine, full flavored, you know what I mean. My favorite name is the DNA of GOD.
Why is the truth important?
The Truth is the fundamental building block of morality. Generally, if you don't use, exercise or embrace the DNA of GOD, you lose in life. Ever notice that? The liers and frauds and those that speak lies with their mouths, over their tongues past their cheeks, generally have the worse health problems or marital problems and issues of ethics and the mutherfuckers steal too, ok, let me not get into a rant, but they make shit difficult for us good folk.
Do you  deserve the truth? Are you a man ?
No, if you do not put into the world, truths, then you deserve to suffer in every possible way, in my brutally beloved opinion. The power of a man, and what he can influence, his situational outcomes, his wealth building ability, his wife loving ability and the way he is perceived by others, are greatly influenced by his use of the truth.
Do you deserve real love? Do you deserve honest friends?
Do you deserve the unlimited upward possibilities that life offers?
Lets see it we can find out with a couple of simple questions…
Do you keep your word?
Do you represent the truth?