The Want That Won't Quit
Has something ever had such a hold over you that when you tried to resist it, you were brought to your knees?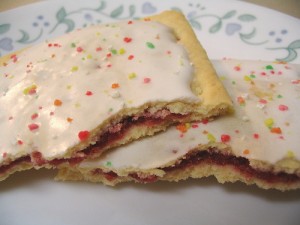 That happened to me yesterday.  And you're going to laugh when I tell you what it was that got me there.
Pop-Tarts. Yes, I'm serious…..and soooo ashamed to admit it.
I've been trying to watch what I'm eating, and have done pretty well.  I hadn't had any sweets except fruit & yogurt for more than a month, and I was super proud of myself.
Then the other day, the UPS man knocked at the door and handed me a package I wasn't expecting.
Pop-Tarts I had ordered from Amazon nearly 2 months ago. They were on back order and I'd completely forgotten about them.
Just knowing they were here destroyed my resolve. I hid them and tried to forget they were violating my personal space, but I couldn't get them out of my mind.
My sweet tooth, combined the raw nerves from a difficult week, eventually got the best of me.
I found myself on my knees in tears, worn out from my stressful week as well as the futile fight over some sugary goodness.
I felt like I deserved it.  After all, life wasn't fair and I was feeling sorry for myself!
That pity party resulted in me giving in to that want…..and you know what? Those Pop-Tarts didn't even come close to the expectation I had in my mind.
Instead, they left me feeling guilty, defeated, and unsatisfied.
I Know It's Bad, But I Want It Anyway!
Isn't that how things usually happen though?
We want things that we know aren't good for us, but the longer we try to resist, the stronger the pull becomes until we can't focus on anything else.
How many times have you been brought to your knees and/or to tears over something you knew you didn't need and shouldn't have?
The piece of chocolate cake that's screaming your name.
A new gadget that you know you can't afford & don't need.
That man or woman that you care deeply about, but you know isn't good for you and will only bring you heartache.
We all fall victim to these lusts….and yes, they are lusts.  We're drawn like a magnet to things we shouldn't have. Things we think will make us happy.
So we eat that 1200-calorie piece of cake, buy that expensive new device that makes us short with the bill money, or pursue that person that doesn't treat us right.
Then they disappoint….again.
After we've caved and the thrill is gone, emptiness and defeat set in. Then we move on to the next want, hoping THAT will be what finally brings us lasting happiness.
But it never does, and the cycle starts over.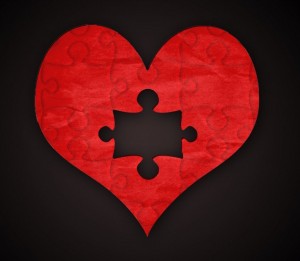 Material things do not fill those voids in our lives or in our hearts. They don't cure unhappiness or loneliness. They can't mend past hurts.
Those are all lies that Satan uses to tempt us, weaken us, and take our attention away from the one thing we were made to crave….God.
When we try desperately to fill those voids in our lives with anything else, we will only be left disappointed and in a desperate search for the happiness that continues to elude us.
That longing in our soul is something that only God can satisfy.
How lovely is your dwelling place,  LORD Almighty!  My soul yearns, even faints, for the courts of the LORD; my heart and my flesh cry out  for the living God.  (Psalm 84:1-2)
Ladies, Is Food a Want That You Can't Shake?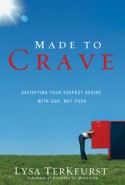 If food happens to be a want that you can't seem to shake, then we're in the same boat.
But the good news is that God never intended for us to live in defeat.
If you've been hoping and praying to be released from your bondage to food, I believe I've found a book that may help refocus that misdirected craving back to where it belongs….on God.
It is called "Made to Crave: Satisfying Your Deepest Desire With God, Not Food" by Lysa Terkeurst of Proverbs 31 Ministries.
If you're intrigued, please check back for my post later this weekend.  I'll be giving a copy of the book away to one lucky visitor!
Written By Melissa S. | Friend Melissa on Facebook | Join The Forum
What is it That You REALLY Want?