Patricia Krentcil Lashes Out After Comment From Snooki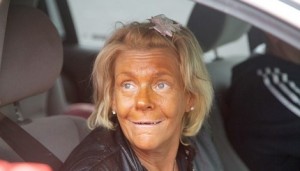 I knew that tanning was bad for you. What I didn't know was that you could turn your face into a rawhide chew if you tanned incessantly.
Patricia Krentcil has demonstrated this perfectly.
The 44-year old mom from NJ has had her face plastered all over the news over the past week, after being accused of taking her 6-year old daughter to the tanning salon.
Krentcil denies the charges. In fact, she claims she is a great mother and lashed out at those who are critical of her, telling a reporter:
There's somebody out there on my whole life that doesn't like me because they're jealous, they're fat and they're ugly.
Wait, your face looks like a piece of leather, and you think we're JEALOUS??!
Hahaha!!!! I'll take fat and ugly any day over having a face like that. And that face gives new meaning to the word ugly. She must not have any mirrors in her house.
Even Snooki, who has no room to talk about tanning, had something to say about it. She told Extra:
That bitch is crazy. You are not supposed to take kids there. Everyone knows you are not supposed to take kids there!
According to TMZ, Krentcil had a few choice words for Snooki too:
She's the biggest a**hole in the world. She's fake, she's fat, her t*ts are fake, she's disgusting.
LOL  Cat fight anyone?
This woman needs some serious therapy.  God knows her kids are probably going to need some later on in life too.
One good thing has come of this. Looking at her face reminded me that I need to buy a new leather handbag.  Off to do some shopping! 🙂
'Tanning Mom' Arrested on Child Endangerment Charges:
Krentcil lashes out at Snooki:
Written By Melissa S. | Friend Melissa on Facebook | Join The Forum
The 'Tanning Mom' Rips Snooki