Starving Children vs. Abused Animals
Weighing the notion of starving children against abused animals is a really ugly subject. It upsets me to see any living creature suffer, but I'm going to address it because this is something that's really been bothering me.
I'm not sure how many of you are familiar with the OkCupid dating site, but I'm really steamed by something I've been seeing there. The site has a section where you can answer questions to help improve your matches. The idea behind it is that the more questions you answer, the more accurately the system can match you with people you are compatible with.
There are hundreds (thousands?) of questions, many of them outrageously stupid because anyone can post a question, but the one that really caught my attention is "Which is worse: starving children or abused animals?"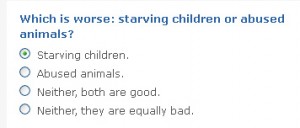 When you click on any member's profile, you are able to see their answers to match questions. This is the fun part because you  never know what kind of crazy response and explanation someone has posted. As I began scrolling through other members' answers, I was shocked at how many people answered that question by stating that abused animals are worse, with explanation comments such as "animals are innocent."
What?!  Now don't get me wrong, I love animals and don't want to see them abused, but how on earth can anyone believe abused animals are worse than starving children??
Can We Really Compare Children to Animals?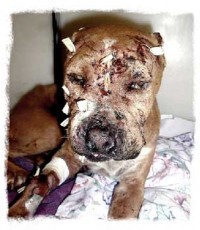 For anyone that's a Christian, this isn't even something that you should need to think about. God created man in His own image. We are the result of intelligent design, and God gave Adam authority over the animals in the Garden of Eden. After the Great Flood, He gave Noah permission to eat "every moving thing that lives."  Humans and animals were not created equal.
Even if you don't believe in God or creationism, how could you possibly believe that animals are more important than humans? And don't even give me that crap about evolution. If you want to believe you evolved from an ape, by all means, continue to think that. I'm not buying it for one single minute, and frankly, I'm not convinced Charles Darwin really believed it either.
Feel free to argue that the Lady Hope story of Darwin's possible conversion to Christianity is a fraud. Despite those claims, most of which address only a single part of the story, there is plenty of information that supports the claims in her story. None of us will ever know if Darwin really found God before he died.  I'm not convinced one way or the other, but that's irrelevant to the current discussion anyway.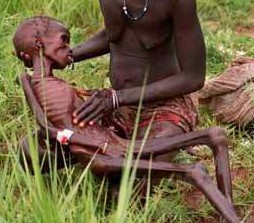 Regardless of whether you believe in creation or evolution, it's unfathomable to me that there are so many people that don't feel that human life is more valuable.
It's beyond me how anyone could see an animal being abused and a child being starved to death and chose to save the animal. BOTH are horrible, but that's like saying that if your partner was beating your dog and neglecting your child by not feeding it, that you would try to save the dog and allow him/her to starve your child to death.
Just thinking about it makes me angry! Someone please explain this logic to me. Leave a comment below and tell me your thoughts. Comments from both sides of the issue are welcome, but I'd particularly like to hear from someone that thinks they can justify stating that abused animals are more important than starving children.  No crazy PETA people, please!  You have more issues than we have time or space to address here.
Written By Melissa S. | Friend Melissa on Facebook | Join The Forum
Can You Really Give Animals Priority Over Children??