Need Real Food Please!!
Today's been one of those days where all I've been able to think about is food. I'm sure you've had days like that.  They aren't fun.  Especially when you're trying to lose weight.
I've been watching what kinds of food I eat and generally eating less. After losing only 9 pounds, I've already hit a wall.
Despite knowing that I can't eat anything too tasty, I've been craving deliciousness to the point it's making me crazy!
Then I had an epiphany.  Applebee's!
This Can't Possibly Be Food That's Conducive to Weight Loss
Meet the 550-calorie Roasted Garlic Sirloin.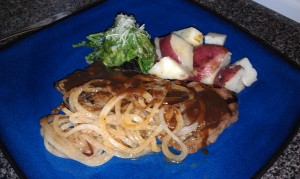 For a mere $13, it comes with a 7-oz sirloin steak with grilled onions, a portobello mushroom stuffed with spinach, and herbed potatoes.
They claim this thing is under 550-calories. Hello….what?!!
It was like the clouds parted and manna fell from heaven! I can still hear angels singing.
This was, by far, the most juicy, luscious thing I've had in my mouth in weeks.  And do you see how much food you get?? That is a dinner-sized plate it's decorating!
If you're on a diet and craving real food, run don't walk to your nearest Applebee's and try one of these 550-calorie miracles.
This is Dr. Melissa's prescription for a happy mouth and waistline.
You're welcome 🙂
Written By Melissa S. | Friend Melissa on Facebook | Join The Forum
Now That's Food!