Jesus' Resurrection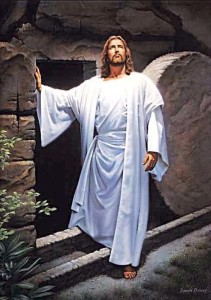 I wanted to take a moment to wish you all a very happy and blessed Easter!
Today, many of us celebrate the resurrection of our Savior from the tomb.
By sacrificing his life on the cross, Jesus took our place, paid the price for our sins and conquered the grave.
For the wages of sin is death, but the gift of God is eternal life in Christ Jesus our Lord. (Romans 6:23)
On this resurrection day, so many years ago, death was swallowed up in victory (1 Corinthians 54).
In dying on the cross and being raised from the dead, Jesus opened up the way for each of us to be saved by faith and have eternal life.
What an amazing gift!
For those of us who have already accepted the gift of salvation, Easter is a glorious day.
If you have not yet accepted Jesus as your personal Lord and Savior, but feel that tug at your heart, you can do that right now.
1. Admit you are a sinner, ask for forgiveness, and repent of your sins (turn away from them).
We are ALL sinners and need forgiveness.  The Bible says:
for all have sinned and fall short of the glory of God (Romans 3:23); and

the wages of sin is death (Romans 6:23)
God wants all of us to experience eternal life.
Repent therefore and be converted, that your sins may be blotted out, so that times of refreshing may come from the presence of the Lord (Acts 3:19)
2.  Believe that Jesus is the Son of God, and that He died on the cross for your sins and to give you eternal life.
We cannot save ourselves. The only way to salvation is through Jesus' sacrifice on the cross.
For God so loved the world that He gave His only begotten Son, that whoever believes in Him should not perish but have everlasting life.  (John 3:16)

But God demonstrates His own love toward us, in that while we were still sinners, Christ died for us.  (Romans 5:8)
Salvation is not by works, it is by FAITH.
You can do all the good things in the world, but you must believe that Jesus died for your sins and rose again in order to be saved.
Jesus said to him, I am the way, the truth, and the life. No one comes to the Father except through Me.'  (John 14:6)
3.  Pray a simple prayer.
Pray a simple prayer acknowledging that you're a sinner and need forgiveness.  Tell God that you believe Jesus Christ died for your sins, and that you accept him as your Lord and Savior.
There is no magic prayer for this. You can pray it in your own words from your heart. If you're having trouble coming up with a prayer, it can be something like this:
Dear Lord,

I admit that I'm a sinner and that my sins separate me from you.  I'm sorry and repent of my sins. I believe that Jesus is the Son of God, died on the cross to save me, and that He has risen from the dead and now lives again.

I commit my life to you, and accept Jesus as my Lord and Savior. Lord, come into my life and help me to live in a way that's pleasing to You. Thank you for the gift of eternal life.

Amen.
Remember, salvation is by faith, so now know in your heart that God has forgiven you and that you will spend eternity with Him.
4. Tell someone about your decision.
The Bible says:
that if you confess with your mouth the Lord Jesus and believe in your heart that God has raised Him from the dead, you will be saved. For with the heart one believes unto righteousness, and with the mouth confession is made unto salvation. (Romans 10:9-10)
It's important to tell someone of your decision. If you know another Christian, tell them. If you don't know any other Christians, you can tell us.
If you just prayed that prayer, congratulations and welcome to the family!
After taking this step and accepting Christ, you should begin reading your Bible and praying daily.
There are many Bible reading plans online, so you should be able to find one that you like.
Also, seek out a good Bible-believing church in your community.  It's important to fellowship with other believers, who can help you stay on the right path.
The Real Face of Jesus?
If you haven't yet seen the History Channel's video entitled The Real Face of Jesus, it is a fascinating watch.
All of us have wondered what Jesus looked like.
In this documentary, graphic experts use cutting-edge technology to recreate a 3-D image of the face in the Shroud of Turin.
For those that believe the Shroud of Turin was, indeed, Jesus' burial shroud, this documentary gives you an idea of what Jesus may really have looked like.
How appropriate to get a possible glimpse of Jesus' face on this beautiful Easter morning!
Even if you don't believe it was Jesus' burial shroud, this is still worth seeing, and I highly recommend it.
God bless you all and happy Easter!
Written By Melissa S. | Friend Melissa on Facebook | Join The Forum
Jesus, Salvation & the Shroud of Turin