Mandatory RFID Implants by March 2013
Most people who are even semi-informed are aware that implantable RFID chips have been in the works for quite awhile.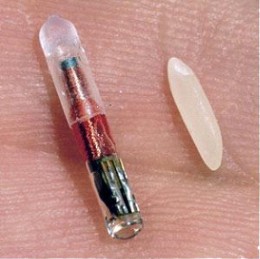 What you may not be aware of is that this isn't something that's years in the future.  It's right around the corner.
As mandated by Obamacare, all Americans must receive an implanted RFID device within 36 months of when the bill was passed.
That would be March 2013.
Yes, I know the bill is a long read, but this information is in Sec. 2561 of  H.R. 3200 entitled "National Medical Device Registry", if you care to check it out for yourself.

If not, just watch the short video below.
These RFID chips will enable the government to know everything about you (personal, medical, financial info) and track everything you do & everywhere you go…..or even kill you remotely.
Of course, they want you to believe being chipped is for your benefit.
Is the RFID the Mark of the Beast?
A lot of people believe these implantable RFIDs chips are the Mark of the Beast that the Bible talks about.
He causes all, both small and great, rich and poor, free and slave, to receive a mark on their right hand or on their foreheads, and that no one may buy or sell except one who has the mark or the name of the beast, or the number of his name. (Revelation 13:16-17)
Although the implantable RFID chip will undeniably make you a slave to the powers-that-be, I personally do not believe it to be the Mark of the Beast.
Why, you ask?
Because according to the Bible, the Mark of the Beast appears to be something that we will have the ability to refuse.
And the smoke of their torment ascends forever and ever; and they have no rest day or night, who worship the beast and his image, and whoever receives the mark of his name. (Revelation 14:11)
"Whoever receives."  That seems to imply that you will have a choice in the matter.
Implantable RFID chips could be forced upon someone without their knowledge or consent.
They could be implanted in babies and children, or done while someone is unconscious.
If they hold you down and do it at gun-point while you object, does that really count as "receiving" the Mark?  I don't think so.
Also, this is going to happen under the reign of the Antichrist.
As evil as he's proving himself to be, he may be the precursor, but unlike a lot of others, I do not believe that Obama is the Antichrist.
That would be giving him way too much credit. He's just a puppet.
But make no mistake, we're hurtling at lightening speed toward the culmination of these prophecies. We can see that all around us, and it's pretty darn scary.
Mandatory RFID chips by 2013?
Written By Melissa S. | Friend Melissa on Facebook | Join The Forum
Mandatory RFID Implants are Just Around the Corner!