Obama 'On Notice'
On Wednesday, March 7, 2012, Walter Jones, Republican representative from North Carolina, put President Barack Obama on notice.
Rep. Jones introduced H. Concurrent Resolution 107 warning that the use of military force by the President without authorization from Congress is an impeachable offense under the U.S. Constitution.
Resolution Directed at President Obama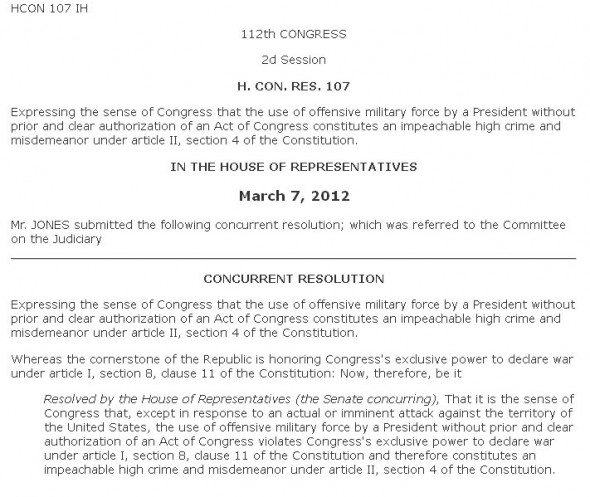 Obama has proven time & again that he has no problem overstepping his authority and violating his oath to uphold the Constitution.
This resolution is a big leap in the right direction towards getting the United States back on track.
It's great to know that there are Patriots like Rep. Jones in Congress. He is one of the few that have taken action to stand up for what's right.
Lyndon LaRouche commented that the matter is "urgent" and has called us to move "full steam ahead" in rallying around this resolution.
We need to immediately call or email our representatives and demand that they support this resolution.
Contact information for your state representatives is available here.
Please do not wait! This is a crucial matter that must be addressed immediately.
Written By Melissa S. | Friend Melissa on Facebook | Join The Forum
Resolution Warns Obama That His Actions are Impeachable