Military Issues Warning Regarding March for Ron Paul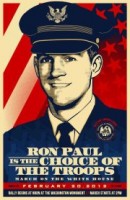 The U.S. Military sent out an email warning the active duty soldiers and veterans against attending the "March on the White House" on Monday, February 20, 2012.
The march will be held in Washington, DC. from 12:00-3:00 pm. It will begin at the Washington Monument and end at the White House.
This event is specifically for military and vets who support Republican Presidential candidate Ron Paul.
Paul has consistently received more donations from active duty military than all of the other Republican candidates combined, but apparently the U.S. military isn't too pleased with the widespread support.
Leaked Email
The email was leaked by some active duty military members. According to the Daily Paul website, the email states:
—–Original Message—–
From: Weger, Joel A CIV OGC, Ethics [mailto:[email protected]]
Sent: Thursday, February 16, 2012 8:17
To: [email protected]
Subject: [ETHICS] Partisan Political March

Importance: High

It has come to our attention that a partisan political march targeting military personnel is being organized for February 20, 2012. See link below:

http://www.facebook.com/events/192677970828185/?ref=notif&no…

As a reminder, active duty personnel are prohibited by DoD Directive 1344.10 paragraph 4.1.2.10 from marching in a partisan political parade regardless of whether they are in uniform or civilian clothes. Reservists not on active duty and retirees may not march in uniform pursuant to paragraph 4.1.4. Reservists not on active duty and retirees may march in civilian clothes provided that they do not otherwise act in a manner that could reasonably give rise to the inference or appearance of official sponsorship, approval, or endorsement.

The directive is a lawful general regulation. Violations of paragraphs 4.1.
through 4.5. of the Directive by persons subject to the Uniform Code of
Military Justice are punishable under Article 92, "Failure to Obey Order or
Regulation."

In addition, DODI 1334.01, paragraph 3.1.2 prohibits the wearing of the uniform by members of the armed forces (including retired members and members of reserve components) during or in connection with political activities.

You may wish to advise your command regarding this particular event because of the apparent solicitation of active duty personnel.

Joel A. Weger
Senior Attorney
Department of the Navy
Office of the Assistant General Counsel (Ethics)
703.614.XXXX
Military Personnel Respond with a Great Big F*** You
It seems many of the military personnel that support Ron Paul don't really care about the warning.
Below is a video by Adam Kokesh who created the "March on the White House" event. In the video, he reads some responses from military members and veterans, indicating their lack of concern.
The march will go on, and we could not be prouder of you!
Update (2/20/2012): Live Stream Info
The March is happening today.  You can watch live streams at the following links:
http://www.adamvstheman.com/blog/ron-paul-is-the-choice-of-the-troops-livestream
Written By Melissa S. | Friend Melissa on Facebook | Join The Forum
Military Members Plan to March Despite Warning