Houston's K-Rino in Grand Deception
I have been a fan of K-Rino ever since I discovered him.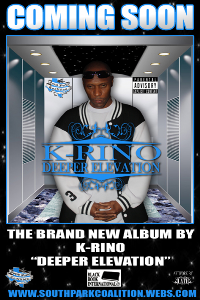 I always knew he existed because I am die hard fan of the SPC (The SPC is the South Park Coalition, a Houston Area entertainers guild) since I first heard Street Military in 1993.
Damn, 1993 was a very, very long time ago, yall may not know nothing about that.
K-Rino doesn't rap about cars and going to the club as much as other rappers who happen to be millionaires. K-Rino of the south Houston raps about real shit. things that intellectuals can related too and he does it in a manner that is entertaining and worth "riding" too.
I don't generally recommend products by blogging about them, at least not as much as want to, but I will highly recommend K-Rino's music. He has been in the rap game for over 20 years easy, has easily certifiable street creds, and speaks truth via a massively funky microphonic brain war.
Viz Approved and Recommended!
Anyway, Check this out…
K-Rino Represents…
If esoteric rap is the wave of the future and it jams like this, count me in.
K-Rino's Grand Deception