Ron Paul Finishes 2nd in Maine Caucus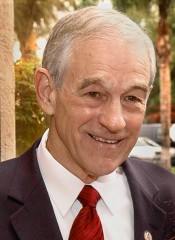 Or did he? It's impossible to say, because it's been reported that only 83% of the votes have been counted for Saturday's caucus. As of now, there are merely 194 votes separating Ron Paul from Mitt Romney who was declared the winner.
It's crucial to note that the Washington County caucus was postponed until next weekend. They blamed the cancellation on "snow", which is absurd considering this is Maine we're talking about and they only received a dusting.
There is speculation that this cancellation was orchestrated by the Romney campaign to ensure a win for Romney. That would come as no surprise considering there has been alleged vote fraud in nearly every caucus and primary thus far.
Could Ron Paul Still Win Maine?
What makes things even worse is that Charlie Webster, the Republican Chairman, blatantly states that, "Some caucuses decided not to participate in this poll and will caucus after this announcement. Their results will not be factored in. The absent votes will not be factored into this announcement after the fact."
Is that so?
I hope the Ron Paul campaign is going to sit back and allow them to steal the win from him. Nice try, but to state you won't count everyone's vote after the caucuses were postponed for bogus reasons should be enough to land them in serious hot water.
Washington County could easily change the outcome of the caucus. The Ron Paul campaign stated, "Washington County is a stronghold for Paul and has yet to report. It might be a week before we know the final outcome there and Washington County is expected to yield 200 votes or more."
They cannot legally declare a winner if the remainder of the state hasn't been permitted to vote. If the GOP doesn't allow the votes from Washington Country to be included, there better be hell to pay.
It's time for the Ron Paul campaign to start kicking ass and taking names.
Written By Melissa S. | Friend Melissa on Facebook | Join The Forum
It's All About the Delegates! Ron Paul CAN Win the Nomination.