Evolution looks silly when Faced with Facts
"Fo' the love of science I tell you" I love this subject to death!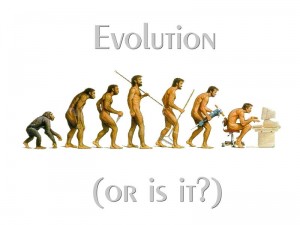 No atheists were harmed during the creation of this post.
I love to hang out at that "Google owned video sharing site" from time to time and when I find goodies, I like to share them.
I bet you won't see this on the Science Channel.
See Programming of Life
Besides, it beats giving free content to the social networks so why not discuss evolution away from the evil clutches of the powers that be.
Behold, citizens of the VizFact.com universe!
I present The Anti Science: Evolution
Wasn't it great?
The narrator was certainly up on his "mechanics for the performing of prudent science" to a level of profundity on par with the conceptualized nudity of the intellect in mainstream academia.
There is absolutely no evidence that one living thing can come from another different kind of living thing or that a living thing can come from a non-living thing. End of story.
If they can sell you evolution, they can sell you genocide.
Evolution looks silly when Faced with Facts