So Many Weight Loss Products, So Little Time!
It seems that everyone is trying to capitalize on the obesity epidemic in our country. We are bombarded daily with commercials for weight loss products that promise you the moon & stars for doing nothing.
These days, you can't even turn on the TV without seeing an ad for some type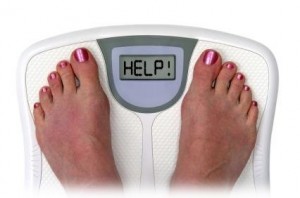 of new miracle pill or workout system that claims you can lose weight with minimal or no lifestyle change.
Even though we know this is insane, we still dare to hope.  After all, it's difficult to admit that we're at fault and need to work hard to fix what we've done.
Most people try to blame the fact that they're fat on something other than their own lack of self-discipline.
Although some people have medical conditions that cause them to gain weight, that's rare. The majority of people are only lying to themselves.
I saw an interesting article on Yahoo the other day, entitled "Is Your House Making You Fat?" I guess we can now blame our weight problems on the fact that our drinking glasses are too short.
Why, thank you, I think I will!
Or maybe I won't, and I'll admit that it's my fault.
You can't make positive changes if you aren't going to be honest with yourself. Personally, I have no problem taking responsibility for my predicament. I'm fat because I love food and I think exercise is the work of Satan.
As a woman of size, I admit that I've succumbed to trying many different types of gimmicky diet products.  You see, I'm one of those people that can just mention food and gain 10 more pounds.  Desperation causes us to do irrational
things sometimes.
I've had weight issues most of my life, and the list of things I've tried is extensive…..Dexatrim, SlimQuick, Phentermine to name just a few.
Even though I know my weight issues are my fault and I've not really expected a miracle, these purchases have sprung from a need for a kick-start in progress. It's easier to continue with something when you actually start to see results.
Needless to say, most of these products do not work, and diet drugs can even cause serious health problems.
The only diet supplement I've ever had any success with is Boda 3 Extract, but that's a discussion for another day.
There's something more important I want to tell you about today.
Addressing Weight Loss From a Spiritual Perspective
About 2 months ago, I decided that it was time to work on myself. This time, I'm using a weapon that I know works.
I've decided to delve back into Made to Crave: Satisfying Your Deepest Desire With God, Not Food, a book by Lysa Terkeurst from Proverbs 31 Ministries.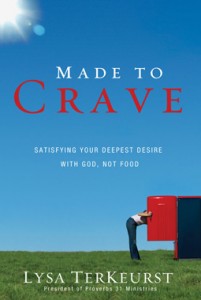 This book is different than other "weight loss" books you're read.
Made to Crave addresses food addiction as a spiritual problem, not a physical one.
Many of us use food as a way to fill an emptiness, a need, or a deep-rooted longing.  That void isn't something that food can or ever will be able to fill.
When we eat out of boredom or emotional pain, we end up at a lower point than where we started….defeated, guilty, and unhappy.
Once we can recognize that God created us to crave Him, not food or other earthly things, we've already won half the battle.
If you're a Christian woman, and have struggled with your weight and are tired of failed weight loss attempts, I encourage you to give this book a chance.
You have nothing to lose except weight!
I've lost 16 lbs in the last couple months, so I'm a testament to the fact that the information in this book can change your mind, your heart, and your life.
If you need support on your weight loss journey, feel free to post a comment or email me as well.
I can certainly use support and people for accountability myself, so let's help each other.  We CAN win this battle!
Written By Melissa S. | Friend Melissa on Facebook | Join The Forum
We Can Win the Weight Loss Battle!