Black Man Hates Self, Worships White People
Tyra Banks (a chic I seriously need to get at) had a very interesting topic on her talk show that I caught on YouTube.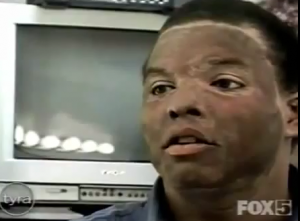 She covered a black man (I use the term "man" loosely) who hates himself, or to be more precise, his blackness.
This bastard even said that being born black is the worst thing that ever happened to him.
The poor male also said if that if he was born white, everything would be ok in his life. I personally think he would be better off as a white woman. I don't have any commentary that will trump the video so go ahead and give a peep.
I will say this; white people can have his soft ass (no offense) and can take Steve Harvey too.
Do you realize they painted this n**ga white?
In my Nigerian English dialect: "Beech Ass Neega"
He's a black man animal with a white woman trapped inside of him.